Flexible Scheduling and Self-Scheduling for Work at Home Staff - Contact Centers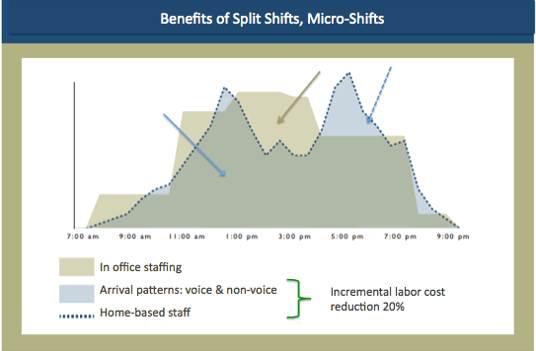 Home-based staffing reduces labor costs by an average of 20% by more closely aligning staff (in very short segments) to arrival patterns of voice and non-voice work.
---
Work schedules in contact centers have always created challenges, and are usually the top one or two drivers of turnover. For most organizations, there are night-time and weekend hours to fill, there are spikes in certain day parts and times of the year, and there are other unplanned events that arise that ultimately result in shortage of staff, and gaps in service level. For many companies, it's a consistent growing problem, and expensive to manage.
Including work at home in your staffing strategy can relieve much of the pain. Here are some examples of how contact center organizations utilize self-scheduling and flexible scheduling to improve staffing and reduce costs.
Qualify a segment (i.e. 25%) of you work at home staff to build their own work schedules from your business requirements. There is large population of qualified people we can consider for work at home positions that prefer varied shifts, split shifts, etc, so that they can wrap their jobs around their core focus (often meaning their family, school, other part-time career or life interest). Hiring them (or identifying them within your existing population of work at home staff), and offering self-scheduling in small 2 hour segments based on your business requirements will satisfy their schedule needs. It also enables you to get unstaffed when you don't need it (i.e. two-hour shifts) and add people (in short shifts) to exactly where you do need them.
Allow most or all of your work at home staff to self-schedule a small segment of their work schedule (i.e. 20%) while you shift bid the balance. In this case, 80% of a work at home team member's schedule is fixed, and a bid process is used to ensure that full time staff are scheduled where needed. The work at home team members then use the self-scheduling model to build out the balance of their full time requirement. Some self-scheduling hours are posted in advance (based on business requirements), new hours are posted daily based on real time needs. Again, hiring people and identifying people that need this sort of flexibility in their lives is the key.
To learn more about Flexible Scheduling, Self-Scheduling, and Work at Home Best Practices, join us at the 2017 Remote Working Summit, Dallas, March 8-9. Citi, USAA, Hilton, Kaiser Permanente, Express Scripts, Capital One and Esurance are amongst 20+ Speakers on Work at Home for Contact Centers.
---