Top Five Remote Working Priorities
Survey results from 100+ Fortune 1000 companies with home-based employees are in. Not surprisingly, the top challenge for companies is preparing leaders for effective management of telecommuters. The second largest challenge has been reported in

training people on technology usage and leveraging technology to drive productivity and engagement. Here's the list from the survey results:
71%: Preparing managers for remote roles

52%: Training managers and remote staff on technology
47%: Engagement of remote staff
45%: Satisfying hiring requirements
32%: Upgrading/replacing legacy technologies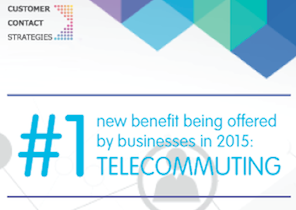 Given telecommuting is the #1 new benefit being offered by employers in 2015-2016, getting business processes, technologies, and work flows sorted is becoming increasingly more important. Pretending it's not different, or leaving it to your managers to wrestle with, will result in performance gaps, and impact engagement.
If you've got people working from home, or remotely, or you're thinking about offering it, please do two things:
1. Register for the 2015 Remote Working Summit February 17-19 in Dallas - 20+ speakers, and it's only once a year.
2. Download the paper on Five Remote Working Priorities, and best practices to make it go.
---